Natural beach:
Cala'n Turqueta




The protection of the unspoilt area at Menorca's south cost even led to a municipal crisis in the Town Hall of Ciutadella with the consequent resignation of the Lord Mayor, Gabriel Allés Vazquez, for bribery.

The case is known as Al Parico, which is the name of the finca that was planned to be urbanised.

The luxurious proyect included two golf courses, one hotel, 300 suites and one heliport.

Cala Turqueta is one of the most famous beaches on Menorca.
It belongs to the Natural Area of Special Interest (ANEI).
This beach was the landing place of Turkish pirates who were "visiting" Menorca during centuries. (In 1535, Turkish pirate Barbarossa attacked Maó, razing it to the ground and killing or enslaving over half its population. A second raid on Ciutadella in 1558 had a similar outcome and over 3,000 people were taken as slaves to Constantinople).



The cove is hidden among pine trees. There are

boat trips

from the Harbour of

Cala'n Bosch

.

If you prefer to go by

car

, there is a parking lot nearby (You will have to walk for 5 minutes).

Taxis

will usually not take you all the way down to the beach of

Calan Turqueta.

There is no wheelchair or stroller access.

The country road passes by

Sant Joan de Missa

and then takes a turn at

Sa Marjal Vella i Nova

.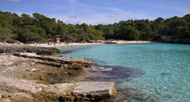 There is a life guard at Calan Turqueta even though it is a natural unspoilt beach.

The beach is 185 metres long and 80 metres wide.

There are electronic signs at the new southern by-pass ("ronda sur") at the outskirts of Ciutadella indicating whether the parking lots still have capacity (in various languages: "lliure, libre, free"). Alternatively, you may choose one of the other nearby beaches, such as Son Saura or Macarella.

You may also walk on the Camí de Cavalls from Cala Macarella.
This is almost a 2 kilometer scenic walk passing by the smaller beach of Cala Macarelleta on the way.


Enlarge map
---