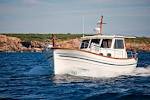 Boat trips
In the harbours of Menorca various types of pleasure boats and ships ( catamarans
, glass-bottom boats, charter ...) are waiting to show you the island from the sea.

Another option would be a round trip in the harbour of Mahón, that leads you down to Es Castell passing several islands in the harbour and various castles.
You will hear taped explanations according to the site you are passing.

Normally these boats also provide a snack bar and drinks.

You also have the opportunity to explore the coastline on a sailing boat.

Some concrete options:


From the harbour of Calan Bosch:


From Cala Galdana:
Ciutadella:
(10.00 a.m.) to the beach of Son Saura
Then on to the beaches of
and some caves.
- You can go aboard in
Ciutadella,
Mahón,
Cala Galdana and
Santandria.

Day trips
Half-day trps
Round trips
Boat trips to Mallorca
Both motor and sailing boats can be hired with driver-

There are ..



sailing boats
kayaks
llauts (smaller yachts )
catamarans
motor boats with different lengths
You can find the respective companies at: