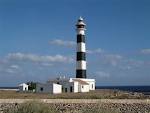 Cap d'Artruix




Cap d'Artruix is about 8 kilometers south of Ciutadella.

On the photograph above, you can see its lighthouse, built in 1868. The lighthouse is still being operated, yet there is now a restaurant on its ground floor.

The principal characeristics of the lighthouse are its alternative black-and-white stripes. Originally, the illumination system worked with fuel oil, it was converted to electric operation in 1930.

Getting there

When coming from Mahón, just turn left right before Ciutadella at the southern by-pass ("Ronda Sur") and follow the road till its end.

The same road also leads to Cala'n Bosch and Son Xoriguer.

Cap d'Artruix is quieter than Cala'n Bosch, from which it is about 5 minutes away.

There are three supermarkets (Spar, BettaBuy and Eroski), a karaoke bar and some pubs and restaurants, one of them with two open-air pools.
It has sunbeds and umbrellas. The minimum consumption is one drink and you can spend the whole day there.

Next to it there are some shops and a dive centre. (Kirstin has graciously agreed to offer you 10% off. Just mention that you came across this option on menorca-tips).

Cap d'Artruix has no beach. The closest beaches are the one in Cala'n Bosch and, about one kilometer further, the one in Son Xoriguer.

Accomodation:


Its only hotel is the Viva Menorca, yet there are a couple of villas and appartments:


---