Nature Reserve:
Mola de Fornells



The Mola de Fornells - also known as Talaia de Fornells - is one of the eight proteced areas Menorca has to offer.

Almost the entire peninsula and the beaches in this area are unspoilt terrain.

The mola is a 123-metre high hill.
Below the cliffs there is the dripstone cave Cueva de Na Pulida with its stalagmites and stalagtites, a favourite destination for divers. There are 300 metres of labyriths in this cave.

In theory, the cave is open to everyone but you need to have the proper equipment and know the place really well!



In the 16th century a defence tower was errected as protection against pirates.

In 1898, during the
Spanish-American War
, some artillery installations were added near the tower.
This was a restricted area until 2002, aereal photographs were prohibited!
There is also an abandonded finca. This place belonged to a Menorcan earl who deceased in 1995. Having no children, a new company, the
Fasfor S.A.
, was established to manage the property.
There is a solitary hiking trail from
Son Parc
to the Mola.
You may encounter some wild goats, but must be lucky to see human soul.
More caves in the area:
Cova dels Anglesos (Cave of the English)
Cova de ses Imatages (Cave of pictures)
Cova dels Orgues (Cave of organ pipes )
Cova des Bufador (Cave of the geyser)
Cova de ses Bruixes (Cave of the witches)
Hiking:
From
Son Parc
to the a Mola de Fornells: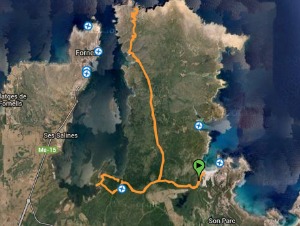 Distance: 17.4 km
Time: About 3 hours

For guided hiking tours, please see our discount offers.
---