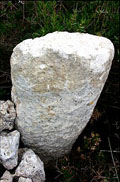 Archeology:
Son Bernardí



This taula is located to the north of the Son Bernardí lloc. (A "lloc" is an agricultural farm).

Follow an asphaleted road, the Camí de Son Escudero, that starts at the Ronda de Ciutadella (the southern by-pass).

At the moment, all you can see is a concave facade, nowadays integrated in a dry-wall.

It appears that there was a precint in horseshoe form with 7 pilasters, 2 of which are still there among the vegetation.

Currently, the precint is pretty deteriorated.