Cap de Faváritx




This rugged and isolated terrain is completely different from other areas on Menorca.

It is called the "Tramuntana", meaning the North (literally: "Over the mountain" - of Italy).

This solitary cape is part of the Natural Park Parque natural de S'Albufera des Grau.


---
The lighthouse

The lighthouse was inaugurated in 1922. It is the only building in this isolated area.

There used to be various shipwrecks due to the poor illumination of the coastline till Maó:

In 1910, the French steamship "General Chanzy" crashed into these cliffs and 169 men lost their lives.

During the Spanish Civil War this lighthouse was switched off (all other lighthouses, as well).


Walking

The Cap de Faváritx is one of the sections of the former bridleway, the camí de cavalls.

Birds are allowed to live and breed without any external interference in this lunar-like landscape, so if bird-watching is one of your passions, this is the place to visit.

Don't forget to bring your camera and long-range lenses, though.

You should not only explore the immediate area. Here's another tour:

Getting there

Drive north-east from the the ME-7 onto the country lane serving Cap de Faváritx.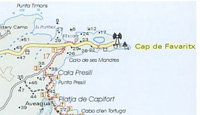 When the lane swings east, start looking for gates on the right of the lane. This is where the route starts.

There is a parking place nearby where you can leave your car.

Walk around the gates. You will then come to a broad stony track that leads through the landscape among the shrub-clothed dunes.

This will bring you to a junction where a rough track continues ahead and you get to a rise overlooking Cala Presili.

The track get down in zigzags to the end of the road above the beach.

By bike:

From Mahón to Faváritx

Nearby:

Cala Presili